Issue 34: Deliciously wild and lawless things
The first page of Talia Hibbert's Act Your Age, Eve Brown opens with a familiar scene:
Eve Brown didn't keep a diary. She kept a journal. There was a difference.

Diaries were horribly organized and awfully prescriptive. They involved dates and plans and regular entries and the suffocating weight of commitment. Journals, on the other hand, were deliciously wild and lawless things. One could abandon a journal for weeks, then crack it open one Saturday evening under the influence of wine and marshmallows without an ounce of guilt.
Last week, I found myself journaling furiously by Lake Huron, the wind whipping the pages up as my handwriting grew progressively worse with each word. I was on my first real vacation in almost two years and my first instinct had been to turn my week off into a writing retreat. But with encouragement from my friend to write longhand, I resolved to keep things lo-fi and low stress. I read romance novels, did some puzzles, cooked, and searched the beach for good rocks.
And of course, I wrote in my journal.
Journaling for me has always felt like a release valve. I've kept physical journals on and off since third grade (I had a morbid childhood fascination with Anne Frank). But to be honest, I've never given it much thought until now.
How does journaling intersect with my writing?
"Without an ounce of guilt"
As Hibbert writes, journaling is great because you can do so "without an ounce of guilt." There have been stretches where I journal almost daily or weekly, but more often than not, my journal entries are months apart. My journal doesn't care though, even if I feel compelled to apologize to it. It doesn't matter what I write about or how many pages I fill. The act itself is therapeutic, allowing me to process changes and feelings.
Journaling lives in this space between what I personally consider "writing" and "not writing"—it's not for anyone else to read and it's not a project with an end date, but it's still adjacent to my writing process. In Beth Pickens' book, Make Your Art No Matter What, she likens free writing to a dancer stretching or a pianist playing scales. Journaling can be a warm-up.
Although I've never tried The Artist's Way's concept of morning pages, my first 100 Day Project was essentially a 100 day journaling exercise. It helped me get into the routine of writing, to focus on the process and not the product. It was a way for me to show up in my creative practice regularly.
I've revisited my journals when writing personal essays to look back on specific feelings or details. But other times, looking back on my past selves becomes its own kind of delayed gratification. I can see my past obsessions and how they have or haven't changed over the years. I can see my growth not just as a writer, but as a person. (For example, why did I spend so much time writing about my fear of failing Math 224??)
Susan Sontag writes, "In the journal I do not just express myself more openly than I could to any person; I create myself." It's a unique kind of writing, prompted by introspection and reflection without the expectation of being seen. Writing is often a solitary thing. Journaling gets you used to being in your own company, to be present with yourself.
"Deliciously wild and lawless things"
When I first thought of journaling, my mind went to my physical journals full of smudged ink. But once I started thinking about it more, I realized I've experimented with many other types of journaling in the past:
Xanga and LiveJournal, which were ways to get used to writing for an audience even if (thankfully) no one read them.
OhLife, which I sorely miss. It was a personal journal website that sent you a daily email prompt—"How was your day?"—and included a random previous entry. Who knew the key to journaling regularly was through email?
A five year journal, of which I've only completed four months.
750 words, which I used for my 100 Day Project.
A gratitude journal, because I realized I tended to write only when I was angry or sad.
Every day for the month of April 2020, I journaled along with The Isolation Journals, a project by Suleika Jaouad to encourage creativity and connection in quarantine. It was the first time I responded to external prompts and I enjoyed the range of contributors and formats. Some asked me to look outside my window or connect with an old friend. Others asked me to draw with my eyes closed or listen to a song.
Journals are a low stakes way of experimenting with form, to free associate and draw spontaneous connections. You can try out different techniques and technologies. If you're like me, it can help justify your penchant for buying notebooks.
There are no rules, except to embrace "wild and lawless things."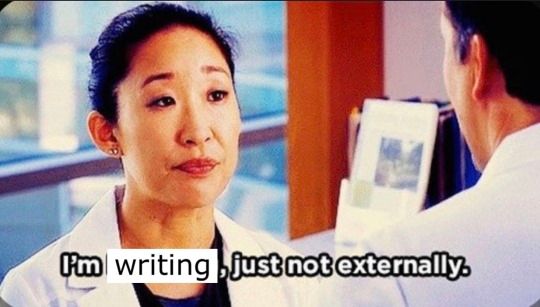 Creative resources
Recent reads & other media
My friend and I have kept up a romance book club since the end of 2020 and our most recent picks were the new Sarah MacLean, Bombshell, about a Victorian women's gang, and Talia Hibbert's top tier enemies-to-lovers novel, Act Your Age, Eve Brown.
I was in Michigan last week on vacation, coincidentally where It Follows was filmed. Watching a horror movie on location is both very fun and very terrifying!! As a longtime fan of Kim's Convenience, it was so great to see Simu Liu on the big screen in Shang-Chi. Tony Leung was the real scene stealer though, especially in his chic dad sandals.
My sister recently took up skateboarding so I suggested we watch Bing Liu's Hulu documentary, Minding the Gap. It's an incredible film about three young men—including Liu himself—who bond through skateboarding, but also grapple with domestic abuse, racism, and economic downturn in Rockford, Illinois. Liu will be directing the A24 adaptation of Ocean Vuong's On Earth We're Briefly Gorgeous and I can't wait.
Note: Book links are connected to my Bookshop affiliate page. If you purchase a book from there, you'll be supporting my work and local independent bookstores!
~ meme myself and i ~
Shang-Chi, stock photography superstar. When you spend three hours cooking to eat in ten minutes. Being a wedding choreographer is a full-time job. Trying to stay tired while using the bathroom. Me @ myself. This dog is proof-reading a paper.