It was my birthday last week and this issue marks two years worth of nicoledonut! If you enjoy this newsletter, it'd mean a lot if you shared it or supported me via Ko-fi or Venmo to help with self-hosting fees. Feel free to hit reply to let me know what else you'd like to see from this newsletter in the future.
I'm preparing for my writing workshops, so I'll keep this week's newsletter short. I'll be taking a summer break and will be back in your inboxes on July 13! Until then, here are some summer reading recommendations.
Short stories
Beach reads
The Book of Delights by Ross Gay
Beach Read by Emily Henry
With the Fire on High by Elizabeth Acevedo
One Last Stop by Casey McQuiston
When No One Is Watching by Alyssa Cole
Afterparties by Anthony Veasna So
It Happened One Summer by Tessa Bailey
High School by Tegan and Sara Quin
The Heart Principle by Helen Hoang
We Are Never Meeting in Real Life by Samantha Irby
Other summer reading guides: The Atlantic, NYT, BuzzFeed
Have a great summer!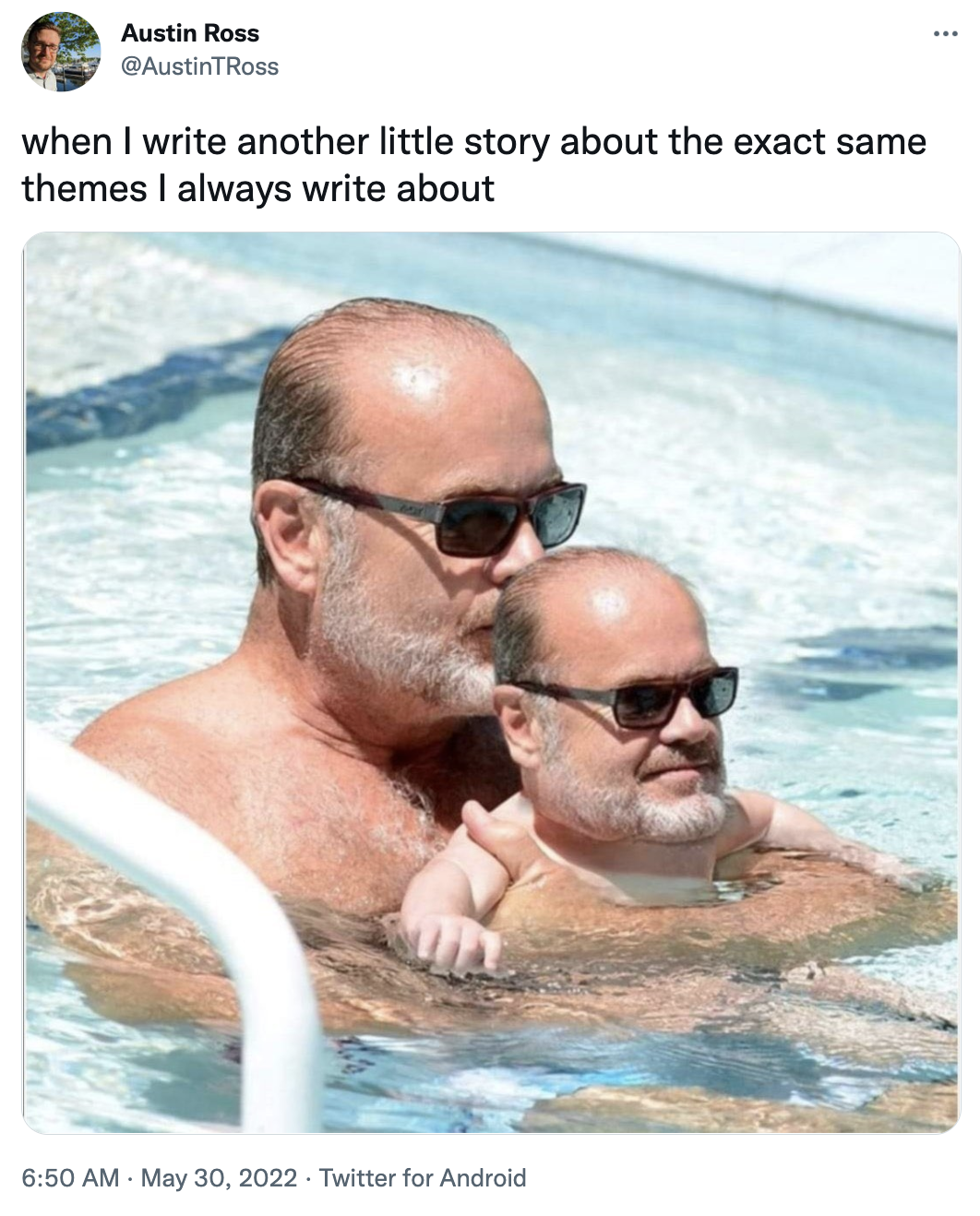 Creative resources
Recent reads & other media
I read Alexandra Kleeman's novels You Too Can Have a Body Like Mine and Something New Under the Sun. Both are satires that focus on appetites and consumption, cults and the media. Kleeman writes about obsession and disconnect in ways that oscillate between unsettling, humorous, and visceral. I particularly loved her second novel, a neo-noir in a near-future Los Angeles that follows a middle-aged novelist overseeing the movie adaptation of his book. He teams up with a troubled former child star to investigate the film production and its connections to WAT-R, a sinister water substitute taking over the state.
I watched Stranger Things 4 and am counting down the days until Vol. 2 in July! In the meantime I've been rewatching a bunch of Bob's Burgers in preparation for the movie.
Note: Book links are connected to my Bookshop affiliate page. If you purchase a book from there, you'll be supporting my work and local independent bookstores!
~ meme myself and i ~
Every Sally Rooney character. If my anxiety could take a physical form. How Vecna will kill me. A guy secretly turning his roommate into a communist. Pool challenge. This lizard is channeling Rocky.