Issue 62: Concrete year end reflections
A few weeks ago, I was accepted to the 2023 Tin House Winter Workshop for short fiction! Then this past Monday, I opened my inbox and received two rejections. The writing life is full of ups and downs—and a whole lot of patience—and as the year draws to a close I've seen people post celebratory round ups of their work or their "year in review."
Looking back, it's easy to think about my year in terms of traditional notions of accomplishments, like publications or acceptances. But I must remind myself that this is only one lens through which to reflect. While it's obviously good to celebrate these types of wins, I also have to remind myself that they don't always tell the whole story.
Similar to how I have tried to set my writing intentions for the year, I'm trying to focus my reflections more on concrete outcomes that I could actually control. For example, I could not control whether I was accepted or rejected for workshops or publications. I could control whether I even put myself forward for the opportunities. I could control how many stories I drafted or revised. I could control how often I sat down to write. I could control my attention.
Our personal definitions of success are informed by our own unique goals, circumstances, backgrounds, and where we are in our projects and careers. I was very focused on short fiction and submitting this year. Meanwhile, one of my friends was laser focused on revising her novel. To reach that goal, she didn't apply to any opportunities or start any new stories until it was finished. That commitment paid off and she's reached a huge milestone.
I have had my own writing goals taped above my desk since January (the last bullet point was way too optimistic):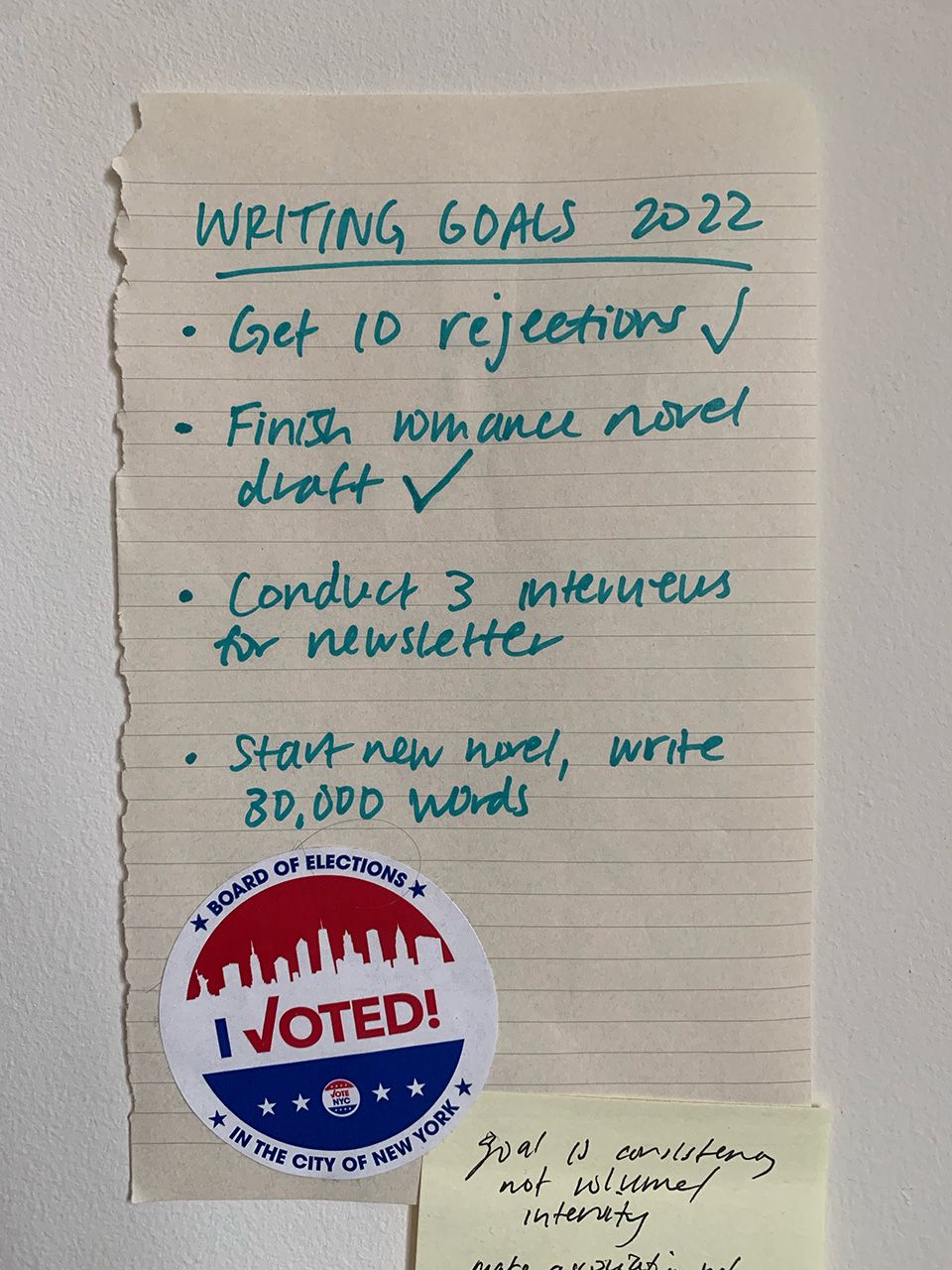 In keeping with a similar spirit, here's my list of Writing Things I Did This Year:
Submitted to 37 publications/writing-related opportunities (and received far more than 10 rejections!)
Finished drafting my romance novel
Participated in the August #mini1000
Worked on 9 distinct stories (including flash fiction and short stories)
Wrote 21 editions of this newsletter, one of which was an interview with novelist Elaine Hsieh Chou
Met up with my writing group relatively consistently!
What does your Writing Things I Did This Year list look like? What concrete strides have you taken in your creative growth?
If you enjoy this newsletter, please consider sharing it with a friend or supporting me via Ko-fi or Venmo! I'll be taking a winter break (reading, spending time with family, sipping Costco eggnog, etc.) and will be back in your inboxes in mid-January. Happy Holidays!
P.S. If you're looking for gifts for the readers and writers in your life, here is a gift guide I put together last year! I'd also recommend gifting AMC A-List ("heartbreak feels good in a place like this") or museum subscriptions for broader creative inspiration and fun. Vanity Fair also has a good roundup of books to gift aspiring authors.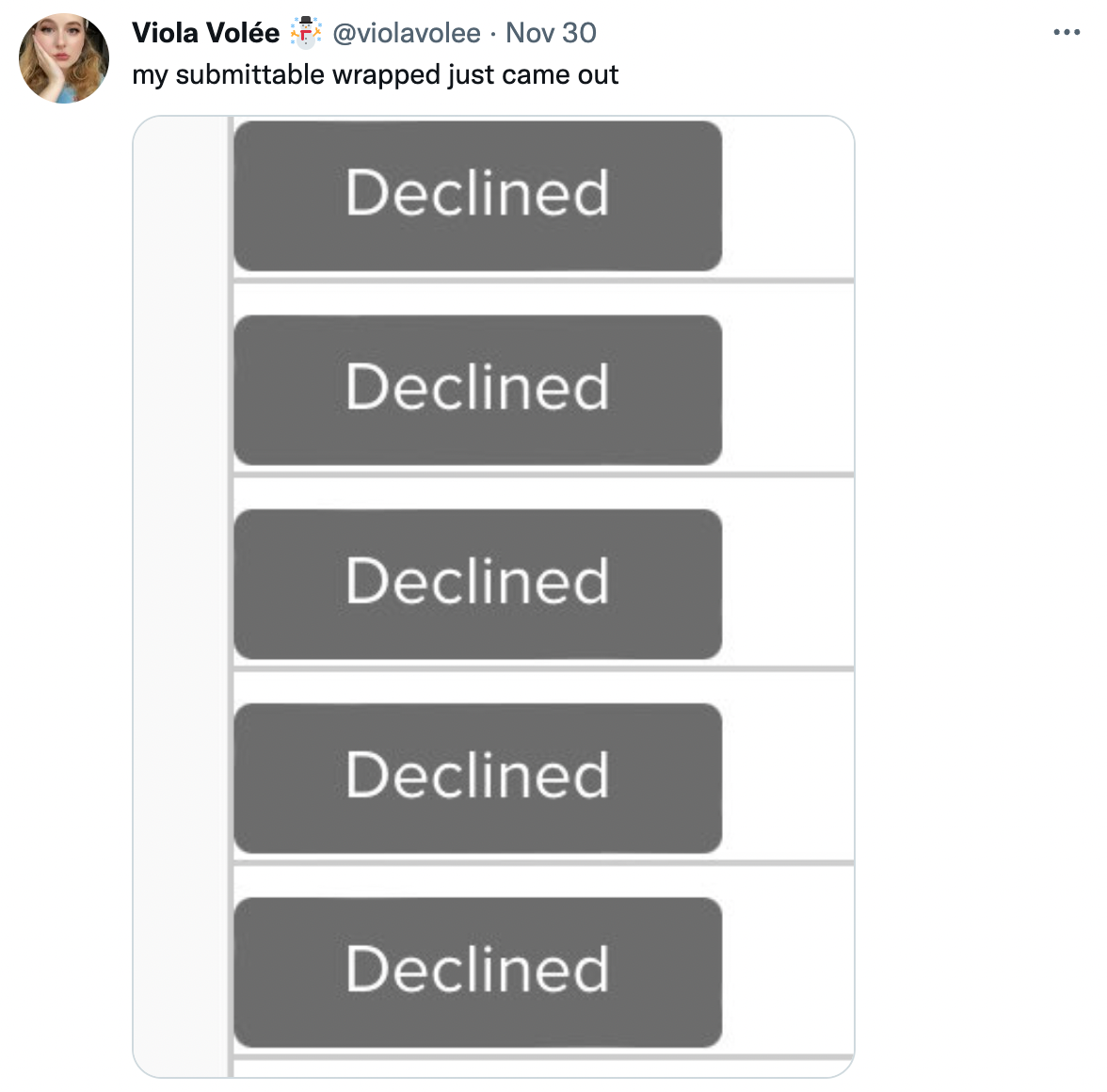 Creative resources
Recent reads & other media
A Rogue by Any Other Name by Sarah MacLean was an excellent rainy day read that I finished in practically one sitting. I also read Mary South's short story collection, You Will Never Be Forgotten. South's stories have been hugely influential in my own writing, as they often use absurd or surreal premises to explore trauma and offer critiques on capitalism, technology, and gender.
Some college friends and I watched Will Arbery's play Evanston Salt Costs Climbing. Directed by Danya Taymor, it spans three winters from 2014-16 and follows two salt truck drivers, their department's administrator, and the administrator's daughter as they cope with creeping existential dread and climate change. (A large reason we went was because we, of course, had spent four frigid semi-depressed years in Evanston.) Its depiction of depression, hopelessness, and how to act in the face of such overwhelming conditions really resonated with me.
E and I are also watching the Hulu adaptation of Fleishman Is in Trouble and enjoying it a lot. We both read the book and so far it's been a very faithful adaptation. Taffy Brodesser-Akner was the writer, showrunner, and executive producer, and it's interesting to read about the process of adapting her own work for the screen.
I watched Top Gun: Maverick with Allison and Sarah, aka creator and lead graphic designer respectively of the excellent newsletter Boy Movies. I walked out of the theater understanding why Timothee Chalamet called it his favorite movie of the year. As Allison describes in her newsletter: "Its action sequences are textured and breathtaking. Its screenplay is airtight. [...] It's as much about Maverick the character aging as it is about Tom Cruise, our last remaining movie star, aging. Teller and Powell cannot stop antagonistically flirting. Lady Gaga is there, presiding over it all."
Note: Book links are connected to my Bookshop affiliate page. If you purchase a book from there, you'll be supporting my work and local independent bookstores!
~ meme myself and i ~
To be a woman is to perform. The correct way to eat a pickle. Historical fiction book covers always include people walking away. We want to find bowls that look sort of like plates that look sort of like bowls. How it feels to sweep. Have you ever seen a cat sit like this??