Issue 79: A real weightless joy
I have some new flash fiction up at The Margins! It's a story about a cyst, a relationship, and excising things from your life no matter how painful.
It's been a month of a lot of (good) change! I was selected as a Center for Fiction fellow and I recently accepted a new job offer. I was looking back on all of my newsletters and realized I've never written about celebrating your wins. In a letter I'd written to my future self, I'd even noted "celebrating accomplishments big and small" as an area to improve upon. To be honest, I'm really bad about doing this. I worry that making a big deal about things feels gauche. I share Brandon Taylor's superstition that good news is often counterbalanced by bad news:
I am not a person who celebrates things. I am trying to become a person who celebrates things, but for most of my life, I hid away from good news. [...] It's always felt that whenever something good happens to me, that something bad must happen too in order to even out things.
I also have a tendency to shift the focus of my attention quickly. I'll feel excited for all of five minutes before I start worrying about logistics, details, or next steps. Rarely will I let myself just bask in an accomplishment—not diminishing it or qualifying it, but just sitting in that moment with full recognition.
The writing life in particular is so full of rejection and I've loved seeing how writers have celebrated their publishing milestones. Delia Cai shared some advice to "celebrate your debut novel in the same way you might celebrate a wedding." For the launch of The Night Parade by Jami Nakamura Lin (illustrated by her sister Cori), they organized a family-friendly festival and costume party celebrating their Japanese, Taiwanese, and Okinawan American cultural communities. To celebrate signing with an agent, Hurley Winkler danced ecstatically to a Talking Heads song.
Of course, milestones don't always have to be as big as book deals or awards. You should set your own goals and celebrate those too. Last year when I set my first annual rejection goal, my partner got me a card to celebrate my first rejection.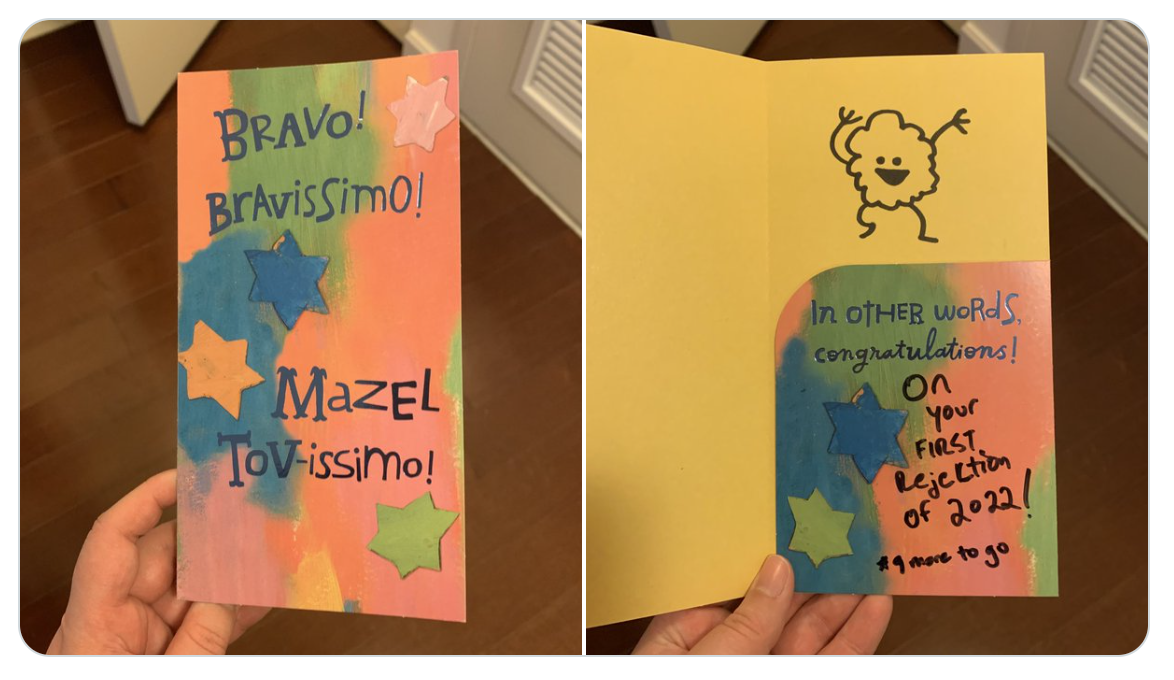 The important thing—and perhaps this is what's most difficult about celebration—is the vulnerability needed to share your dreams, goals, and hopes with others. Of course, it's important to define your own rituals or rewards. We all need a little treat to survive. But so much joy and perspective comes from being celebrated by others who understand the personal significance of your efforts.
Yesterday was my last day after seven years at my job. My friend bought me lunch. My sister wrote me a heartfelt card. E bought a bottle of champagne and we toasted to my new chapter over Papa John's Jack O'Lantern pizza. The champagne made us burp a lot and we laughed. A former coworker messaged me this morning and wished me a happy first day of funemployment. Tonight, I met a friend (for the first time in person!) and we listened to some live music over strong cocktails. I decided to get an espresso martini because hey, I don't have to work tomorrow!
As Brandon Taylor writes about getting dinner with a friend on his most recent publication day, "I felt for the first time in a long time, maybe my life, a real weightless joy."
Celebration isn't necessarily something flashy or expensive. It can be a text message with copious emojis that finds you at just the right moment. It can be a comforting meal. It can be a change in your routine. It can be a quiet moment of reflection. Celebration is whatever makes you feel that real weightless joy.
What are your favorite ways to celebrate your accomplishments?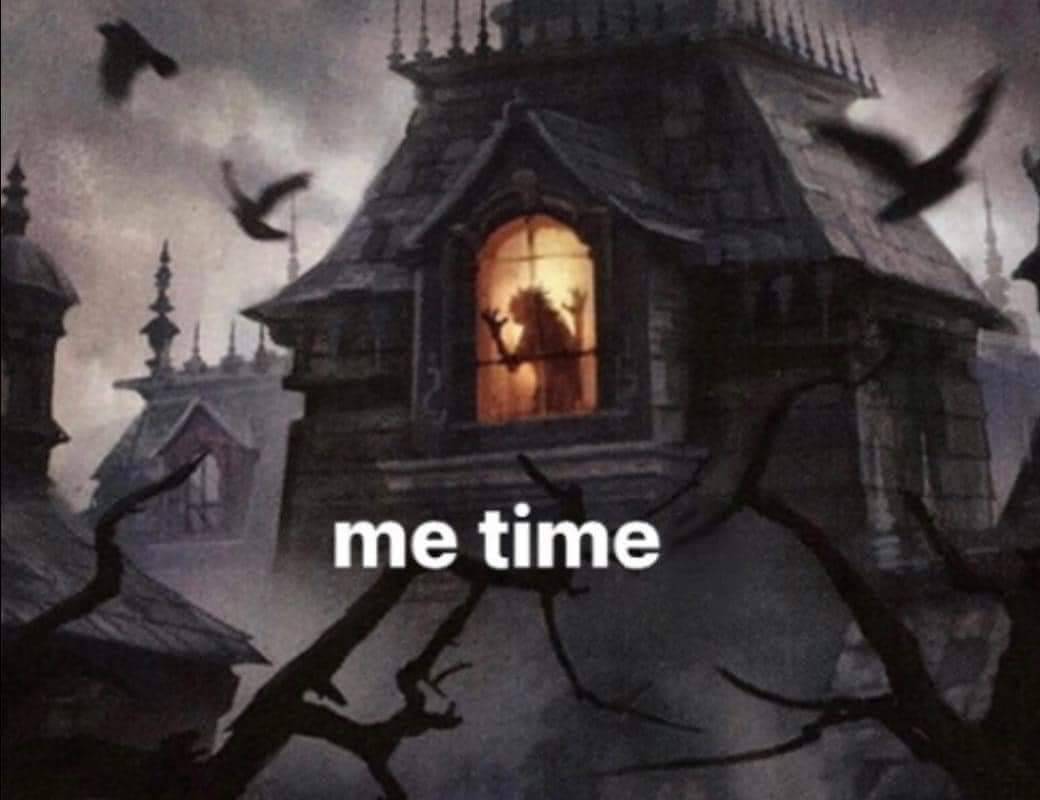 Creative resources
Recent reads & other media
I finished The Neighbor Favor by Kristina Forest, which is a cozy You've Got Mail-esque romance. I really enjoyed Joan Is Okay by Weike Wang, whose restrained but wry narrator works through her grief in the early days of the pandemic. I liked Wang's first novel, Chemistry, as well as her short fiction, and her latest novel continues to explore Chinese American identity, understated grief, and our subjective definitions of personhood.
In space movies, my sister and I watched Interstellar and some friends and I watched Aliens. E and I saw Killers of the Flower Moon and The Killer, neither of which I was blown away by but attempted interesting things. The Killer had some humorous moments, but ultimately doesn't let itself be as absurd as it could be.
Recently read short stories: Nothing recently!
Note: Book links are connected to my Bookshop affiliate page. If you purchase a book from there, you'll be supporting my work and local independent bookstores!
~ meme myself and i ~
When the meeting starts running over. Finally eating the emergency snack at the bottom of your bag. Do you have this incredible talent? Go outside, touch grass, look water. I love going with the flow. That friend who wants to be good at watching movies.